About School
Infrastructure
ART Room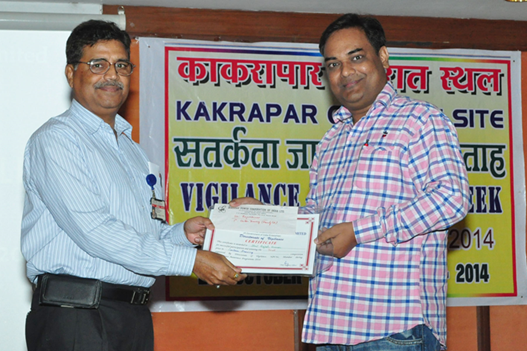 Mr. Rajesh Kumar
T.G.T. ART
Shri Rajesh Kumar TGT (Art) receiving the award from the KAPS Gujarat Site Director Shri. L.K. Jain.
(Shri Rajesh Kumar, TGT (Art) bagged the first prize of Rs.2,000/-(certificate & cash award) in cartoon drawing competition at All India NPCIL poster painting and cartoon drawing competition and Master Vivek Vaghela got a consolation prize in Student category.)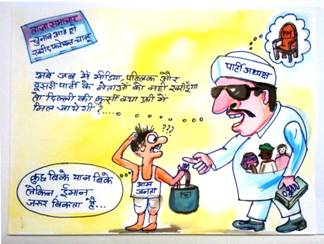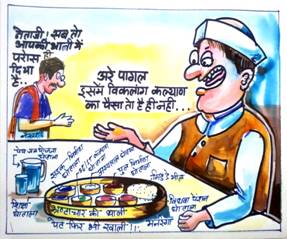 ---
Awards won by A.E.C.S. Kakrapar Students
1. Vigilance Awareness- 2014:- Students of classes VI to VIII participated in drawing competition on the topic "Evils of corruption" conducted by vigilance cell of KAPS on 14.10.2014. Four of our students namely Ms. Anjali Koshley (VIII-B), Ms. Drasti Patel (VI-A), Ms. Akanksha Kava (VII-B) and Master. Sneh P Sabhaya got 1st, 2nd, 3rd and consolation prize respectively.
The students of classes IX to XII participated in elocution competition on the topic "Use of technology for combating corruption" in which Ms. Namita Rane (X-C) Ms. Prabha Joshi (X-B) Ms. Namita Shetty (X-C) and Master Rushabh Nayak (IX-C) bagged the 1st, 2nd, 3rd and consolation prizes respectively.
2. Energy Conservation: The following students are the winners in the Painting competition organized by NPCIL KAPS 1-4 on Energy Conservation.
| Sr. No. | Name | Class | Position |
| --- | --- | --- | --- |
| 1 | Jahnavi D. Patel | VI-A | I |
| 2 | Aranya S. Kumar | VIII-B | II |
| 3 | Nidhi S. tarware | VIII-B | III |
| 4 | Arya S. Modi | VI-A | Consolation |
3. Other Accomplishments in Art:
SUMUL DAIRY DRAWING CHAMPS - 2014 (Art Competition)
| Sr. No. | Name | Class | Position |
| --- | --- | --- | --- |
| 1 | Chaitanya kamble | X-B | 4th |
| 2 | Pooja V. | IX-A | 5th |
Kala Bharti Art Development Institute, Pune (National level)
| Sr. No. | Name | Class |
| --- | --- | --- |
| 1 | Stuti V. Shah | IX-C |
| 2 | Param V. Shah | V-B |
| 3 | Priyanka Ghosh | IX-B |
| 4 | Shambhavi Prakash | VI-B |